Latest News from the Drive-By Truckers

The Dirt Underneath Returns
Back in 2007, Drive-By Truckers did a series of shows that we called The Dirt Underneath. Now we're doing it again!

Black Ice Vérité LP & DVD
Songs recorded live and available on Glorious White Vinyl (with DVD of Black Ice Vérité included).

English Oceans Deluxe Edition
CD includes the album along with the DVD of Black Ice Vérité and a CD of the Black Ice Vérité Bonus Tracks.
Hangout with DBT
We'll be performing at #Hangoutfest in Gulf Shores, AL May 15-17! Tix on sale Tuesday. Complete lineup: hangoutmusicfest.com

Hood Screens 'Network'
Patterson will be screening the 1976 movie 'Network' at the Carolina Theatre on April 13th.
---
Drive-By Truckers - The Dirt Underneath (Returns)
Y'all,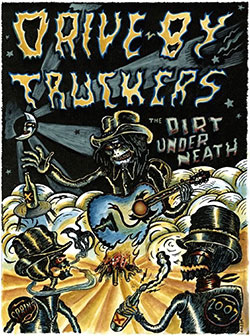 Back in 2007, Drive-By Truckers did a series of shows that we called The Dirt Underneath. It was conceived as an acoustic tour, but over time it sort of morphed into more of a halfway acoustic tour. We sat down (most shows) and definitely re-arranged and reinvented songs, pulled out songs that usually don't get played much in our regular show, had more banter and story-telling and a generally different vibe and approach from the DBT Rock Shows that we are known for.
It also gave us a chance to work on new material. At that point we were preparing to go in and record the album Brighter Than Creation's Dark and The Dirt Underneath gave us a chance to workshop and showcase many of those songs as a 'work in progress' in front of a friendly crowd.
The tour was a great success and a lot of fun and we have always talked of doing it again, but it's just never been the right time or situation. Until now.
We are going out in April with the same approach. It will be a fun change of pace for us and hopefully a fun and different thing for Y'all. We hope to pull out some different songs and toy with some old favorites in a different way and as I said, hopefully work up some new ones along the way. I know that BTCD greatly benefitted from that tour and as we're in the early stages of writing and thinking of what comes next, this seemed like a great time time to pull out some chairs and maybe a lamp or two and invite Y'all to a traveling living room for a couple of weeks.
Who knows what will come of it?
As always, thank you for your long time support and see you at the dig site.
DBT
---
Patterson Hood Screens 'Network'
The Modern School of Film
and the
Carolina Theatre of Durham
in Association with
Guitartown
Present Film: Acoustic with Patterson Hood of Drive-By Truckers. Patterson will be screening the 1976 film 'Network' at the Carolina Theatre on Monday, April 13th at 7 pm. Tickets go on sale March 12 at 10 am. More details, including ticket info
here
. Please stay tuned to
Guitartown on Yahoo Groups
,
Facebook
and
Twitter
for the latest on this and other Guitartown Presents events. If you're unfamiliar with Guitartown, you can learn more about us in
this article
from
Candid Slice
that ran last year on the occasion of our 15th anniversary. You'll recognize at least one familiar face (maybe more) in the top photo accompanying the article.
---
Y'all,
Guess 2014 is in the homestretch now and it's been a good one overall in DBT World. Thanks again to all who have come out to shows, bought our records and otherwise supported our band this year. We've had a pretty amazing time and we're gearing up to end it with quite the bang.
Next week we are traveling to San Francisco to play a three night stand at The Fillmore. One of the world's most amazing venues in one of the world's most beautiful cities. We are beyond psyched to end our year of touring there. All three nights will be opened by the unbelievably great Sturgill Simpson. His album is one of the best of the year and we're beyond honored to have him sharing our bill that weekend. Tickets are moving fast and it's gonna sell out so don't get left behind.
We are planning quite the blowout for these last shows of the year. David Barbe is flying out with his super-talented son Henry to record the proceedings for that long awaited DBT Live Album we've been wanting to do for 14 years now. We've been prepping and planning for months and the time is at hand.
After next weekend, the Rock Show will be a little bit more scarce for a while as we're planning on doing some different things for a while next year. DON'T MISS!!!
IN OTHER NEWS:
Pre-orders are up now for the English Oceans - Deluxe Edition which features the acclaimed most recent album plus the DVD of Black Ice Verite', our live performance of the album back in February when it snowed and the whole state shut down, except for us, because we're crazy. It also includes a bonus disc with 3 acoustic performances from the Bonnaroo Hay Bale Session and 5 tracks recorded at The Fabulous 40 Watt Club last Valentines Day Weekend.
For vinyl aficionados, we have Black Ice Verite' including the vinyl version of the Live 8 song collection and the DVD of the Live Performance.
If you order these through the DBT Store by Nov. 17, you will automatically be entered to win one of two autographed test pressings of Black Ice Verite' Live 8 song collection.
Most of you have probably heard about the massive Nuçi's Space fund drive going on revolving around the Reconstruction of the Steeple. It's a an Indiegogo fund drive that will renovate the beloved (and endangered) R.E.M. Steeple and provide funds for Nuçi's Space and their many life changing and life saving services. READ MORE HERE!
Killers and Stars was my first solo album. I recorded it in early 2001 and it was released on CD back in the summer of 2004 but until now has never been available on vinyl. That has finally changed as New West Records released it on vinyl with new liner notes on Nov. 4. It's a rather lo-fi recording but the vinyl version really does sound so much warmer and better and I'm really proud to finally have it out. Ill be selling it at my upcoming solo shows.
In December, Cooley and I will both be hitting the road playing some solo dates. Neither of us have played many solo shows this year and it will be a pleasure to go out and play some intimate shows, play some songs and tell some stories. We hope we see you there.
Have a safe and happy Thanksgiving and See You at The Rock Show!
Patterson Hood
Drive-By Truckers
---
Y'all,
It was great being back out last weekend. Three really fun shows.
LOCKN' was one of our favorite festival shows of the year.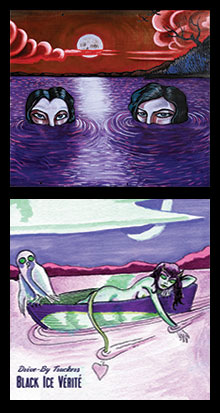 We are thrilled to announce the English Oceans Deluxe Edition CD and Black Ice Vérité DVD and LP coming on Tuesday November 18, 2014.

Some of you might remember, we recorded a live performance of our latest album last February at The Fabulous 40 Watt Club. All hell broke loose, weather wise, but The Show Went On and our friend Jason Thrasher caught it all on film. The end result is a film we're really all proud of, running through the new songs in front of a small crowd at one of our favorite rooms on Earth.

The
Black Ice Vérité LP
(and bonus CD on the Deluxe Edition) is a collection of 8 songs recorded live, three acoustic performances from The Hay Bale Session we recorded the morning of our Bonnaroo performance, and 5 tracks from this year's
HeAthens Homecoming Weekend
in Athens GA. A few old songs, a few new songs and a few very different versions. Available on Glorious White Vinyl (with DVD of
Black Ice Vérité
included).
The
English Oceans Deluxe Edition CD/DVD
includes the album, our most acclaimed work in years, along with the DVD of
Black Ice Vérité
and a CD of the
Black Ice Vérité
Bonus Tracks.
Tickets are on sale for our
DBT - English Oceans Fall Tour 2014
.
We're playing some amazing rooms with some fantastic bands and hope to see you there.
Thanks to everyone, for making this one of the best years in our history.
The best is yet to come!
See You at The Rock Show!
Patterson Hood
Drive-By Truckers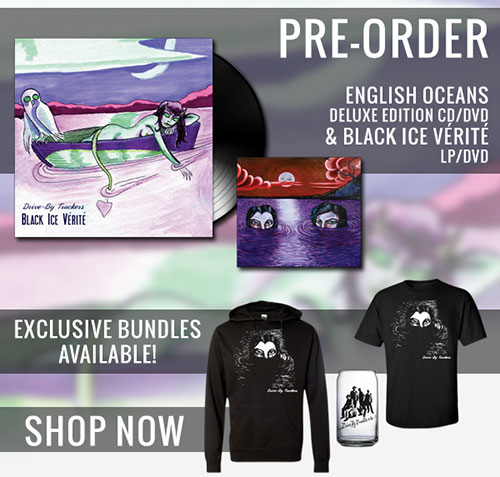 ---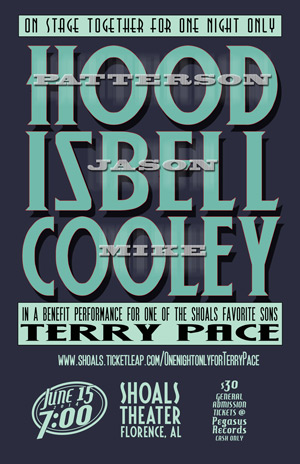 COOLEY, HOOD AND ISBELL PLAY BENEFIT FOR TERRY PACE
Shoals natives and critically-acclaimed songwriters/performers Jason Isbell, Patterson Hood and Mike Cooley are pooling their exceptional talents for a one-night-only concert to benefit their lifelong friend Terry Pace. The trio will headline a fundraiser on Sunday, June 15, at 7 p.m. at the Shoals Theatre. This will be the first time they have played on stage together in several years.
Pace suffered two debilitating strokes in March which required several weeks of hospitalization in Birmingham. He was recently released from the hospital and is recovering at his home in Sheffield. Rehabilitation will be a long, expensive process and the medical costs continue to mount. Prior to his illness, Pace was the director of UNA's Office of Communications and Marketing. For the past eight years, he taught freshman composition and sophomore literature in the UNA Department of English. He also led classes on film appreciation and the history of Muscle Shoals music.
The June benefit is the brainchild of Jayne Jackson, event coordinator at UNA. "I knew the community would want to do something to help Terry. There is so much love for him here. The simple fact that these three prominent artists are coming off the road during heavy touring to do this show on a night off sends a significant message of love and respect. Terry has helped a lot of people through the years and now people want to give back to him."
For the past 30 years Pace has been a central figure in local music and theatrical circles. He is an actor, director, producer, lecturer and music historian who has been active in supporting and writing about the Muscle Shoals music scene.
Tickets for the event go on sale Thursday and will be $75 (VIP) and $30 (general admission). The VIP tickets include a meet and greet with Isbell, Hood and Cooley after the show. Tickets are available at Pegasus Records in Florence or at www.shoals.ticketleap.com/OnenightonlyforTerryPace. For information call 256-765-1700.
---
Y'ALL.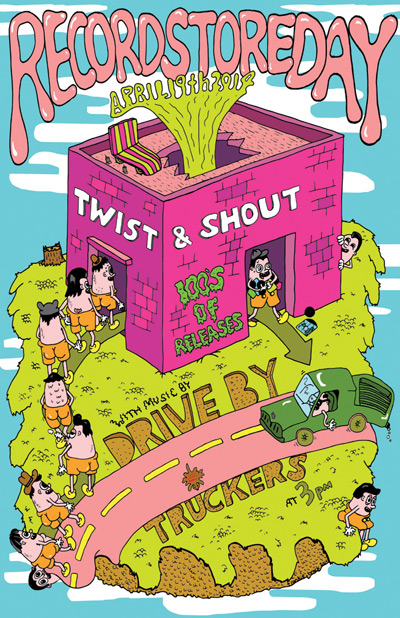 DBT is heading back out on the road this week so come on out and Rock and Roll with us.
Saturday is Record Store Day (we are putting out our Dragon Pants EP) and we will be playing at Twist and Shout Records in Denver CO, followed by a show at the beautiful Fillmore, which I think is also the biggest venue we've ever headlined.
Next week our band will be on the beautiful west coast with stops in some of our very favorite towns. We are playing a bunch with our new friends Shovels and Ropes, who I first saw last weekend at The Greek in Berkeley and are now a new fave.
Speaking of which, Thanks Again to everyone that made last weekend's show such a success and one of our all time favorite nights ever. The Greek was absolutely beautiful, Willie Nelson was the best I've ever seen him, his crew was great to us and Special Thanks to Mickey Raphael for sitting in with us on three songs. I can't wait till next time we get to play together.
Thanks to all of you who have gone out and supported us. English Oceans has been our best received and looking to become best selling album ever. The first leg was my all time favorite tour and we plan on beating it on this one. Can't wait!
See you at The Rock Show,
Patterson Hood
Drive-By Truckers
---
RELEASE DAY!!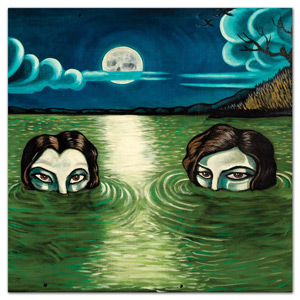 Happy English Oceans Release Day! Today, there will be a limited number of "bootleg vinyl" distributed into indie record shops. Head to your local independent record store and look for a limited edition English Oceans double-LP blue vinyl bootleg, hand-numbered and stamped at the ATO Records office. Take a photo of yourself on Facebook, Twitter or Instagram with the bootleg tagging #englishoceans and #shopindie for a chance to win a signed LP!
Indie Record Store Locator: GET CD GET LP
Here's another bit of news: DBT will be doing an in store at Twist & Shout Records in Denver CO for Record Store Day, Saturday April 19. DBT will also be releasing a 10" vinyl of their Dragon Pants EP for Record Store Day. Get out and support your local indie record store!
Meanwhile, if you're looking to purchase English Oceans anytime, here are some handy links for ya:
Amazon: GET CD GET LP GET MP3s
---
Y'all.
Hope everyone's 2014 is off and running, hopefully in a positive direction. We've kicked off our year in good form with our shows in beautiful Asheville NC and our annualHeAthens Homecoming / 40 Watt / Nuçi's Space Benefits shows and auction in Athens GA. The 3 shows SOLD OUT, despite some crazy weather (which down here can wreak some havoc with the roads and airports). We premiered songs from the new album and filmed some performances for future video projects.
ENGLISH OCEANS, our new album, is being released on March 3rd EVERYWHERE and we're gearing up for some heavy touring. The band has never sounded or felt better and we're beyond excited to take this new show out on the road and play it for you all. You can preorder the album from iTUNES, AMAZON and of course throughOUR WEBSITE - if you pre-order from us, you also get a FREE download of ourDragon Pants EP, 5 additional songs well worth having.
In the meantime you can STREAM the entire album prior to release via our friends atPASTE and PANDORA. We are also very honored to be on the cover of the current issue of Paste Magazine. You can read the interview with Cooley and myself here:http://www.pastemagazine.com/articles/2014/02/drive-by-truckers-southern-storytelling.html, thanks Paste!
In addition to the great press we are receiving for English Oceans we are also very excited to announce that we will be performing on CONAN March 6, be sure and tune in!!
Recently we filmed acoustic versions of two songs off of English Oceans at the beautiful, soon to be restored, Lyric Theatre in historic downtown Birmingham AL: "Part Of Him" premieres today via our friends at the Onion AV Club and "Made Up English Oceans" was released earlier this year. While you're at it, be sure to check out thewebsite for the Lyric Theater to check out the progress on its restoration; it is an old vaudeville theatre from 1915 that has been closed since 1958 and will be one of the most stunning saved structures in the south once restored.
Thanks go out to the fine folks from Three Dimes Down for raising $5000 for Nuçi's Space. Added to the take from the auction (nearly $5000 more) and the final figures from the shows, we are happy to be making a big contribution to Nuci's Space, and we are all very proud and thankful for everyone who came out and made this year's shows so special. The money goes to helping artists and musicians with mental (and physical) health issues. AND SO MUCH MORE.
Tickets are on sale for many upcoming dates of the English Oceans 2014 World Tour. We're playing some amazing rooms with some excellent support so come out and raise some hell with us.
---
Here's the new English Oceans promo video from ATO Records!
---
Check it! Here's the new Made Up English Oceans Video - recorded live on Nov. 19, 2013 at the historic Lyric Theatre in Birmingham, Alabama.
---
Y'all,
Greetings from rainy Dubuque, Iowa. A sold out show tonight to kick off our last little run of 2013.
Halloween will be in Chicago at the fantastic Vic Theatre. One of our favorite venues in one of our favorite cities. Expect some special surprises for this Evening With DBT show (and YES, we will be dressing up for the occasion).
Hope to see a bunch of you this next week and a half out there as DBT rolls into a few great towns for the last shows we play this year.
The new album is finished and we are working on getting the cover ready. Stay tuned for announcements about title and release date info.
After this tour, I have some solo shows coming up. I'll be spending some time in the Great Northwest for the holidays and in January. I'll be doing a residency in Portland at the Doug Fir. Three different Wednesday Night shows in January and definitely three very different shows in store.
Finally I want to send a shout out to everyone I saw in Cleveland last weekend and the fine folks at The Rock and Roll Hall of Fame. I played a Rolling Stones Tribute last Saturday and everyone I met there was unbelievably great. The whole experience has me hitting the road extra fired up and ready to play some great music.
See You at The Rock and Roll Show,
Patterson and the DBT Gang
---
Y'all,
THIS IS A TRUE STORY:
A couple of weeks ago I fell back asleep after my wife left to take the kids to school (my turn to sleep in) and I had this vivid dream. I was at some benefit thing, a Stones Tribute. Not too far fetched, as I have played such a thing once upon a time (with Dave Schools and Cooley among others, but I digress), but this one was different. It was in a big place and I wasn't scheduled to play, I was just standing backstage watching when someone didn't show up and suddenly I was drafted to go out and perform. They literally pushed me out with a guitar in front of a huge crowd and I had to play and sing "Brown Sugar", "Tumbling Dice" and "Honky Tonk Woman".
I've heard these songs literally hundreds (maybe thousands) of times, but I never actually learned the exact words and was kinda winging it and hoping that no one noticed. I seldom remember dreams but this one was vivid and I woke up sometime around the end of the three songs remembering it in pretty good detail.
I then reached for my phone and had an email from my manager forwarding an invite to play The Rock and Roll Hall of Fame's Rolling Stones Tribute show on October 26th.
The guests and backing band includes some of my all time favorite musicians; Stanley Jordan, Waddy Wachtel, Chuck D., Ian McLagen, and Bobby Keys.
Of course, I took it all as an omen and will be playing. I don't know what songs, but I will certainly make sure I'm prepared and ready to rock. It is raising money for a good cause and will be a blast, I'm sure. Please come if you can.
In other news, DBT is playing this weekend in Macon (with our good friend T. Hardy Morris) and also a festival in Florida. We have a great little tour planned for a couple of weeks later with stops in Chicago (for Halloween), Philly, Toronto, Memphis, and Nashville among other great locales. This will be the end of our touring for the year so please come out if you can.
Tickets have just gone on sale for my solo shows in Colorado, The Bay Area and the Great Northwest this winter. It includes my first ever solo shows in Denver, Idaho and Montana, as well as a three wednesday residency at the fabulous Doug Fir in beautiful Portland OR. These will be some of my last solo shows for a good while and I plan on making them as special as I possibly can. See you up there.
Please stay tuned for information and details about our now completed new album and subsequent tour coming early next year. We hope you're as excited about it as we are. It's going to be a great year, I can feel it.
Thanks for all your support, have a fantastic and safe fall and see you at The Rock Show.
Sincerely,
Patterson Hood
Drive-By Truckers
---
Y'all,
Starting to recover from the GA Theater Fall Spectacular. Believe it was the best yet.
Fly Golden Eagle totally killed it on Saturday. That's some cool shit that I look forward to seeing and hearing some more soon. The Dexateens have long been one of my all time favorites and they've only gotten better (and better and better) with the years. They don't play nearly enough, so make sure you catch them whenever you get the chance. Can't wait to hear all the new music they've been recording. As always, our fans are the best ever and this weekend has to be up there in my all time favorite crowds list.
Alabama Ass Whuppin' is nearing it's re-release date and I've kinda been taken back by the press it's already getting. I was pretty stoked when I heard how well it's aged (especially with the great new mastering Greg Calbi gave it) but it's nice having it agreed upon from less biased ears.
Got my copy of T. Hardy Morris' incredible album on vinyl today. Audition Tapes is guaranteed to be on my year end list. I truly love every song on it and have been spinning the vinyl over and over all day (it's been stuck in my car for a couple of months already). I don't get on here and plug other folks records all that often and we're relatively recent friends, but let me put it this way; I'm not plugging it as a favor to him, I'm doing it as a favor to you. It's that fucking good. If' "OK Corral" don't make your day better, you're having one shitty day and I really feel sorry for you.
Hope everyone has a great fall. I'm gonna spend some good time with the family, mix and master our new album, a DBT Fall Tour (including some dates with our new friends The Ol' 97's and a Halloween show in Chicago), a small handful of solo dates and maybe a surprise or two. You never know.
Long Live Live Rock and Roll,
Patterson Hood
Drive-By Truckers
---
Y'all,
Hope everyone has had a great summer. Ours sure went fast, rainy and surprisingly mild. Some family time, some great shows and the better part of making a new record. Now that the kids are back in school, I wanted to fill everyone in on some upcoming happenings in DBT World.
Pre-orders are about to begin for the long awaited reissue of our live album Alabama Ass Whuppin' (recorded in 1999 and originally released in 2000). The 1/2" masters have been missing for over a decade and were recently located. Once we played them back, we were amazed at how well it sounded. We were at our most ragged and raw when we played those shows but the recordings sound great (Kudos to Earl Hicks who engineered those recordings and David Barbe who mixed them). Mastering technology has greatly improved since we released that album and this time we got the great Greg Calbi at Sterling Sound to master it from the original tapes. It's still loud, belligerent and questionably tuned but it is also primal and kick ass and sounds like we're blasting you in your living room or car. We asked Wes Freed to draw up a new album cover for it and he created a work of art on a piece of old rusty tin that we've painstakingly reproduced as the new cover. There are no bonus tracks (those tapes are still missing) but honestly I think what we have stands up just fine as it is. It will be released September 10th on ATO Records (and out for the first time ever as a 2 LP vinyl release).
Next week we play The Georgia Theatre for the third consecutive year. The rebuilt room is one of the finest in the land and this year we are thrilled with our opening acts. On the Saturday show we have a great band from Nashville TN, Fly Golden Eagle. I saw them recently opening for Alabama Shakes in LA and they are fantastic. For the Friday show we have our dear friends and compadres The Dexateens from Tuscaloosa AL. We have shared many a stage with them and go way back (we also share a bass player, our beloved Matt Patton). It has been way too long and will be an epic night of Rock.
We have just announced our Halloween show in Chicago at the legendary Vic Theater. It's been along time since we've played Chicago and this one should sell quickly so get your tickets early.
I have contributed an essay to a new blog called The Bitter Southerner. It's a great site devoted to fine writing, fine cocktails, distilled agents and culinary diversion and living in this sometimes troubled but often magical region we call home. The site publishes every Tuesday and my piece launches on Tuesday August 20. I'm honored to be a part of it and hope you enjoy it.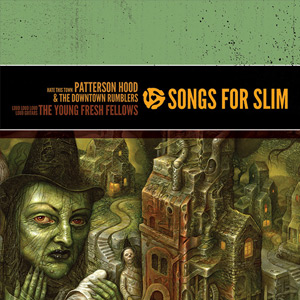 Everyone knows what a huge Replacements fans all of us are and like most Placemat fanatics, we were all super saddened by the news of Slim Dunlap's stroke and health issues. I was asked to take part in a series of recordings of some of Slim's songs for a series of 45 releases by some incredible artists. I recorded my favorite Slim song ("Hate This Town" from Slim's second album) with my band The Downtown Rumblers. Our version will be paired with a new recording of Slim's "Loud Loud Loud Guitars" by the legendary Young Fresh Fellows. They are only pressing 100 copies and auctioning them off. The auction begins on Aug 15th and runs through the 22nd. The single cover was designed by former Mat's drummer Chris Mars, who is one of my favorite artists anywhere and it's a stunner. Check it out and bid on it. It's a great collector piece and a fine slab of musical confection. Plus all proceeds go to helping a super great guy in a terrible situation. (We're all keeping Slim and his family in our hopes and prayers).
We've been in the studio for most of the last couple of weeks making our next album. No title or details yet except that it has gone really great. Spirits are high and we can't wait to play some of this stuff for everybody. I've been posting some photos on my Instagram page (@dbtph) and they may hint at a little of the fun we've been having but with the lights low, the hours long and no one to hold the camera most evidence is actually on the 2" tape. Stay Tuned!
On a final note, a few of the photos on the afore-mentioned Instagram page show me holding a beautiful new guitar. Scott Baxendale (Baxendale Guitar of Athens GA) has been working on this creation for a long time. I always wanted a hollow body with a Bigsby and boy do I have one now. The new guitar has Seymour Duncan pickups and Wes Freed snakes where F-Holes would normally go. Scott built it from scratch using the finest wood allowed. The headstock features the return of Wes Freed's owl design (from Southern Rock Opera), only this time it's a white owl with green eyes. There is of course a story involved in this but I'll tell you that one at a later juncture. We wanted to use the guitar on the new album so he brought it to me unfinished. After our sessions I will give it back to Scott for him to apply the finishing touches and hopefully I will be playing it live by The Georgia Theater shows.
Sorry for the lengthy post this time. Lots to tell while I had a few minutes to tell it. I look forward to seeing many of you on our upcoming dates and look forward to what all the future is bringing. See you at The Rock Show.
Patterson Hood (Drive-By Truckers)
---
Y'all,
DBT is playing this weekend in St. Louis, Kansas City and Little Rock. We've mostly just played one-offs of late and we're all looking forward to stretching out with multiple shows. DBT shows have been fairly few of late as Cooley and I have been finishing up our solo touring and busy writing for next album. It's going to be a fun weekend.
Next weekend, I fly to Seattle to play a show with my Dad, David Hood. This one-off will be our first time ever to play together on the west coast and will be a real treat. The show (at The Triple Door) is in conjunction with the SIFF screening of the documentary film Muscle Shoals which tells the story of my Dad and his partners (and competitors) making some of the world's finest records back in the 60's and 70's. We are working up a special set just for this show and I highly urge you all to try to come out to it.
The following evening (May 31) I will be playing a very rare solo show in Portland at Mississippi Studios. I plan to tell stories and play an overview of songs from DBT and my solo catalog.
In June, Mike Cooley and I both have solo tours. Check the DBT Shows page or my solo site for a complete listing. This will probably be the last full tour I do for Heat Lightning Rumbles in the Distance. We will kick off with two shows with The Mystic Rumblers (Dad, Brad and Jay) in Birmingham (opening for Alabama Shakes) and in Franklin TN.
I will be touring with Brad Morgan and Jay Gonzalez. The tour will end with a special free show in Downtown Athens for Athfest on Sunday June 23. For that show, I will be playing with the full extended band that I toured with last fall plus my Father. MYSTIC DOWNTOWN RUMBLERS. This will truly be a once only special show with 7 piece band and surprises.
DON'T MISS!!!
On July 4th, The Dimmer Twins (Mike Cooley and I) will be playing at Standard Deluxe in Waverly AL. This is a very special one-off in a very special place.
Keep an eye peeled toward www.drivebytruckers.com for upcoming information about the special reissue of Alabama Ass Whuppin', our long out of print live album from 2000. Release date and info forthcoming.
I wish everyone a safe and fun summer and hope to see you out there somewhere.
Best Always,
Patterson Hood
---
Note from Cooley - 4/23/13
There was this heavy box I carried around with me for years. I would pick it up, put it in the truck, haul it to the next place and that's where it stayed until it was time to move again. It was full of small caliber handgun and rifle cartridges, and shotgun shells of various size and shot patterns. It wouldn't be considered a stockpile by today's standards, and I didn't have any use for it then, but I inherited it and the guns that went with it from my father. So I would toss it into the pile with the rest of the baggage I wasn't ready to part with and pretend I was moving on.
My Dad owned a store. Similar to a convenience store, but located in the rural community where we lived, so it still functioned like a traditional country store, complete with a set of regulars that stopped by almost every day to chat. And without cable tv (it's still not available there), 24/7 news, and the internet still over 20 years away, country stores and good ole boys had a wireless bullshit delivery system nonetheless. And good old boys never talk long without talking about guns.
I didn't think much about it at the time, but every now and then my Dad would come home convinced something was about to happen with regard to guns and ammo that required "stocking up." There were going to be limits on the number of boxes you could buy. The price was going to reach unaffordable levels. "They" were going to make it so that you couldn't even buy guns any more or be able to use the ones you had. And this information was never reported in the news because "they" don't want you to know it. That's how that heavy assed box came to be, and would eventually come to me.
One night before I inherited all those bullets, I got shot at. They wouldn't have done me any good since I was trespassing. I'm pretty sure firing shots at the owner of the property you're trespassing on makes it worse. Anyway I was with a couple of friends and we were rolling this guys yard. His house was on a hill at the end of a long driveway with woods in between. We heard the door open and the lights came on and we ran through the woods toward the road. He fired 2 maybe 3 shots and I could hear the bullets going through the trees alongside us. I don't know if he was actually trying to hit us,and I'm not even sure if he could see us, but he didn't just fire in the air either. It had to be obvious we were running away even if it wasn't obvious we were just kids pulling a prank.
On another evening I was home with my parents and some of my friends thought it would be funny to steal the hubcaps off my car. We heard a noise and my Dad could see someone moving around outside. He got his gun, threw open the door and yelled "I'll blow your head off you son of a bitch". One of my friends stood up from behind the car with his hands up saying "don't shoot Mr Cooley it's me". My Dad was red and shaking all over from fear and embarrassment. He'd almost shot a kid pulling a prank.
The inability to defend ones home or even the thought of that level of helplessness brings to mind images that are frightening for anyone, and my father and the man who shot at me belonged to a class and generation of men that were especially motivated that very fear. Robbing a man of the ability to defend his home was the last degrading thing the world could do to him. A world that many of the men of my dad's generation and class saw as having it in for them in the first place. And that was enough to make anything less than an armed response, a weak response.
I never told my Dad I got shot at pulling a prank, and the man who did it outlived him.
I got rid of that box of ammo. If I need to do some shooting, I can buy more. And there was never a time when I couldn't.
-- Cooley
---
Y'ALL:
Hope everyone had a great Holiday and are having a better 2013. It's time to pull out the blue suede shoes and get down to the business of Rock here in DBT Land. The 40 watt dates / Nuçi's Space Homecoming Shows are upon us and it's going to be an epic weekend. There are still a few tickets left to Thursday's show but they're going very fast!
After the 40 Watt weekend we're headed west for a week of dates and are excited to have Houndmouth out as support. Tickets are still available for all shows at http://drivebytruckers.com/shows.html.
MIKE COOLEY TOUR
In February, Cooley's headed west! He'll play Nashville, the west coast and in Colorado. If you haven't caught one of his solo shows, it's an absolute must see. Touring behind his very cool live record (and Yes, it's now available on vinyl).
Tickets available at http://drivebytruckers.com/shows.html.
PATTERSON HOOD SOLO AND WITH JAY GONZALEZ & BRAD MORGAN
I'll also be heading out for a run of solo shows in February kicking things off with an evening with show, by myself at Eddie's Attic in Atlanta, followed by a run of shows (including a second night in Atlanta) with Brad Morgan and Jay Gonzalez backing me up (The Stripped Down Rumblers perhaps) and supported by my good friend Dylan LeBlanc. I used to play Eddie's when I first moved to Georgia, 19 years ago, and even wrote "Murdering Oscar" there; but haven't played there in way over a decade. It will be two very different shows and a very special 2 night stand. Then I'll be heading up to North Carolina and Knoxville for the first time in quite a while.
Tickets available at http://drivebytruckers.com/shows.html.
DBT MARCH TOUR
I'm also very pleased to announce a DBT Tour for March. Things are getting a little more stripped down and primal as the band shifts into a new phase for the new year. Old 97's will be joining us for 4 dates (March 9 and 15-17), and we are excited to share the stage with them! PRE SALE starts TODAY at http://drivebytruckers.com/shows.html.
ALABAMA ASS WHUPPIN'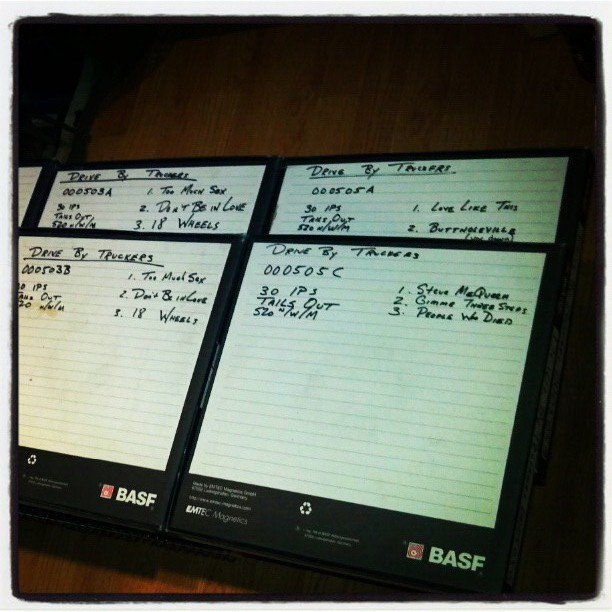 We have a little bit of recording planned and are finishing up our preparations for the official reissue of our long 'out of print' live album from 2000, ALABAMA ASS WHUPPIN'. Recorded in various Georgia clubs during the Pizza Deliverance Tour of 1999, it is probably the most punkrock thing we ever did and I've really enjoyed hearing again for the first time in way over a decade. We have restored the original 1/2" analogue mixes of the album and will be having it remastered with some nice new art work. Details and dates forthcoming.
Thanks again to everyone who made our New Years Eve shows in DC so special. The 9:30 Club never fails to be an incredible time for us.
See You at The Rock Show.
Patterson
---
Patterson's "Best Of" Lists for 2012
This month everyone is featuring their Best Of lists. We'll be posting Patterson Hood's "Best Of" lists over the next few days.
Tickets for this year's New Years Shows at the 9:30 Club in Washington DC are going fast - Dec 29 is already SOLD OUT! Make sure you get your tickets to Dec 30 and 31 shows, and don't forget the DBT Homecoming Shows at the 40 Watt in January!
Here's what Patterson loved this year:
MUSIC:
BEST ALBUMS OF THE YEAR (tie):
1. Father John Misty - Fear Fun
and
1. Bill Fay - Life Is People

Other great albums this year (in alphabetical order):
Alabama Shakes - Boys and Girls
Elephant Micah - Louder Than Thou
Craig Finn - Clear Heart Full Eyes
Jay Gonzalez - Mess of Happiness
Kelly Hogan - I Like To Keep Myself in Pain
Hope For Agoldensummer - Life Inside The Body
Will Johnson - Scorpion
Michael Kiwanuka - Home Again
Lotus Plaza - Spooky Action At A Distance
Jacob Morris - Moths
Dan Penn - The FAME Sessions
Lee Renaldo - Between The Times and The Tides
Sharon Van Etten - Tramp

Older but digging:
Pink Floyd - Obscured By Clouds
War On Drugs - Slave Ambient
Bonnie Prince Billy and The Cairo Gang - Wonder Show of the World
Verbena - Souls For Sale

SONG OF THE YEAR - "Only Son of the Ladies Man" by Father John Misty
FILMS:
My favorite film of the year (by far) is
Beasts of the Southern Wild.
Its star Quvenzhane Wallis should win Best Actress.
Best Director should be Benh Zeitlin for Beasts of the Southern Wild who broke the three golden rules of filmmaking (no kids, animals or water) and made a true work of art.
Best Actor Daniel Day-Lewis (Lincoln) with Joaquin Phoenix a close runner up for The Master.


ALSO LOVED:
The Master (Paul Thomas Anderson), Lincoln (Steven Spielberg),
Moonrise Kingdom (Wes Anderson)
looking forward to Django Unchained (Quintin Tarantino)
BOOKS:
The Passage of Power - The Years of Lyndon B. Johnson (Vol 4) by Robert Caro was by far my favorite read of the year.
Stunning from start to finish and the part about November 22 1963 was the best writing I've ever seen about the Kennedy Assassination.
Other great reads (from this and other years) include:
The Motel Life by Willy Vlautin; Fire and Rain by David Browne; Telegraph Avenue by Michael Chabon; Waging Heavy Peace by Neil Young; Classic Crews (a collection) by Harry Crews
OTHER HIGHLIGHTS OF THE YEAR:
Of course my family and friends.
Louie (FX TV) - The greatest sitcom since All in the Family. Genius.
The Daily Show and Colbert Report - Making the news bearable. Truly TV as it's finest.
Playing with The Mystic Rumblers (Oxford MS 4/12) - Band I put together with my Dad, Brad, Jay and Jacob. Played a killer cover of "Take A Letter Maria" with two great trumpet players that Matt Patton helped us find.
Playing with The Downtown Rumblers (Sept-Oct) - The killer band I put together to go out and work my new album featuring the fabulous Campbell Sisters (also known as Hope For Agoldensummer). Great shows coast to coast, especially Helsinki on the Hudson, Hudson NY and The Hollywood Forever Cemetery.
Playing with The Dimmer Twins (Marriage Equality Tour - June 2012, more to come?) Cooley and I celebrated 27 years together with two shows in Virginia that were among our favorite shows we've ever played.
Playing with DBT. Damned if we didn't have some great shows in our Sweet Sixteenth Year. Makes me look forward to recording the next album.
Alabama Shakes - Watching them have such an amazing year has reaffirmed my faith in the power of Rock. Having them back me up in London and Germany was great fun.
The Americana Music Awards in Nashville. I always hate awards shit, but this show at The Ryman was an absolutely incredible evening of great music and vibes. I got to present Booker T. Jones with a lifetime achievment award, met Tom T. Hall and saw an unbelievable Richard Thompson performance. All that and so much more.
Playing with Craig Finn and Will Johnson - An unbelievable pleasure to sit between them for two weeks in Europe this past fall.
And finally, playing with The Downtown 13 - Having so many incredibly talented friends all jump in to record "After It's Gone" to raise awareness about a proposed development in Athens GA. On no notice at all members of DBT, Widespread Panic, REM, Hope For Agoldensummer, Henry Barbe, Futurebirds, and Lera Lynn joined David Barbe and I and two weeks later it was released (with a great video by Jason Thrasher). AWESOME!
---
From Hood - Thanksgiving, 2012
Y'ALL:
HAPPY THANKSGIVING! Returned home last night from my European / UK Tour. Really glad to be back with family in time for the holidays and glad to have a little sleep in my own bed and to recover from a very grueling but great three months.
Thanks to all the friends and fans who turned out for these shows, here and abroad. It was a truly amazing three tours.
Thanks to Will Johnson and Craig Finn for the fantastic shows and great times these last three weeks overseas. Will and I, of course, go way back as I have long been worlds biggest Centro-matic fan and he's even played guitar in DBT when I injured my hand last year.
Craig and I have some history also, The Rock and Roll Means Well Tour back in 2008 between DBT and The Hold Steady was an all time highlight for us and this recent tour began with a lunch conversation between us last february.
Craig and Will were both incredible every single night. The stories, the songs, the voices and the banter were all top notch and I truly did have the best seat in the house every single night. (Between them). All of us have vowed to find a way to bring the show Stateside sometime next year.
I do have three more solo shows coming up before the end of the year. Playing at The Fabulous 40 Watt Club on December 8th w/ The Downtown Rumblers and special guest Don Chambers. Playing Thursday Dec 13 - Friday Dec. 14th in Nashville at The High Watt (in the Cannery Complex) w/ The Downtown Rumblers and special guests Hope For Agoldensummer. These will be my last shows for a while with this lineup of the band, as Page lives in Wisconsin and has her own album coming out soon (Dream Boat). Anyone who saw our shows in September and October can vouch of what a great band it is and I highly recommend your attendance if possible.
DBT also has some shows coming up. Our big New Years Eve three night blowout in DC is happening for a second year. We will be playing with Deer Tick on the 29th. They are a great band and it is a real treat finally getting to play with them. On the 30th we will be playing with Lee Fields who has one of my favorite albums of the year. Finally on the 31st, we play with our dear friends Luther and Cody Dickinson in The North Mississippi Allstars Duo. We have history with those gents dating back to our days in Adam's House Cat (and theirs in DDT) but it's a rare treat these days to get us all together and it will be a fantastic way to bring in 2013.
Finally,
tickets are on sale
for DBT's annual Nuçi's Space / 40 Watt Club Homecoming Weekend. January 17th - 19th. We have a stellar lineup of special guests to kick things off this time and it promises to be one of the best years yet. We have three Nuçi related bands this year. THUNDERCRACK, which was our crew's entry into last years Athens Business Rocks competition. Our own Matt Defilippis channeling his inner Springsteen for an action packed set of E Street Favorites. Followed by Nuçi Space's own stellar band who will be performing a southern soul music tribute. Of course on saturday we will have the Camp Amped Band comprised of players from this past year's Camp Amped program. Additionally, we have Grass Giraffe playing on friday. They are one of my very favorite bands in Athens and I have wanted them for the past two years and am thrilled to finally get to have them on the bill. Saturday will also have Valocirapture. A band I've been watching for a couple of years that has gotten to be very stellar. They are fronted by Winston Barbe, who if I remember correctly was in our very first Camp Amped Band a few years ago. Tickets are on sale now and going fast.
Have a great and safe holiday and I look forward to seeing you at The Rock Show.
Sincerely, Patterson Hood
Drive-By Truckers
---
ADAM'S HOUSE CAT - TOWN BURNED DOWN
(thoughts and reflections 21 years later)
Y'ALL:
First of all, thanks to everyone involved in getting DBT up to the 100,000 milestone on Facebook. Some of that stuff is kind of foreign to me, but I know 100,000 is a milestone for a band with humble beginnings such as ourselves.
When I was first asked about maybe putting up the old Adam's House Cat album to stream as a Thank You, I thought it sounded like a pretty good idea. I put six years of my life into that band and that album is really the only tangible thing I have to show for that whole time of my life (basically, my 20's) and while there is a lot about it that I would do different now if I could, it's a pretty good reflection of what we were about and trying to do and as I said, it's really all I have.
When I agreed to do this, I intended to write a companion piece about it and what it means to me now and why it was what it was etc. to post with it, but alas, my Great Uncle passed away on Monday and all of my time has been in either reflecting on him or getting through the day to day of life out here on the road (I am in St. Louis right now and won't see my family until sunday).
Adam's House Cat formed in August of 1985, more or less, when I accidentally moved in with Mike Cooley who was rooming with an acquaintance from college who needed a roommate at the exact time I was needing a place to live. I was on the outs with my parents, flunking out of school, miserably broke and fighting with my girlfriend. Cooley had a guitar and so did I. We would sit around our miserable apartment, which was really a three room basement without the house on top of it, playing our guitars, loudly, and drinking. When it rained, water would seep up through the concrete slab floor and everything smelt of stale beer and mildew.
I had been in bands all through High School, but my Dad saw me play a really embarrassingly bad show my senior year and convinced me that I should go to college and maybe try something else out, so for nearly four years I hadn't taken my guitar out of its case. I had, however, continued to write song, nearly daily, and as I said, my grades really sucked. I was depressed and miserable and an album by The Replacements called Tim convinced me to drop out of school and give this music thing another stab. Cooley, no doubt thought I was crazy, but he somehow ended up doing the same thing also and Adam's House Cat was born.
We were loud and out of tune and my voice was not endearing to anyone. My songs were dark and weird and all of our friends hated our music. We soon got thrown out of a couple of places to live due to our excessive suckitude, but somehow we both felt a calling to continue on with it.
My Grandmother provided us with a safe and secure place to practice (her basement) and since we didn't have anything better to do, we practiced all of the time.
My Great Uncle hated Rock and Roll music, but he loved me and "loaned" us the money to buy a PA system and a little gear so that we could convert my Grandmother's basement into our own Band Space.
We went through a series of early bass players, the best being Thom Pizza, who was somewhat a local legend having had the very first Punk Rock band in our town way back. He didn't want to join up full time, but played a few times with us and convinced us that even though we weren't very good yet, we had a genuine chemistry and we should continue doing it. He also convinced us to hold out until we found the right drummer.
That drummer was Chuck Tremblay. He was a big, balding older dude (ancient, at least 35). He had done time playing hotel lounge bands and upon moving to Muscle Shoals vowed to only play original music. Cooley and I weren't all that good at playing yet, but I was already becoming a decent writer and all we wanted to do was originals so Chuck joined up and basically trained us to be a good band.
Chuck was a fantastic drummer. Flat out. Great tempo, loud and versatile, dynamic, really everything you would want. During our first trek into the studio, my Dad's partner, Roger Hawkins (who played drums on Aretha's "Respect" and Staple Singers "I'll Take You There" among many other classics) pulled me aside to make sure I realized what a great drummer he was. He worked us hard and in time we became pretty good and later still even better.
We went through numerous bass players, including a stint where Cooley and I played three piece, taking turns on bass (the source of many many fights and arguments between us) before getting John Cahoon. John had played with us briefly when we first started, but rejoined for good in the summer of 1988, right after we won the MUSICIAN Magazine Best Unsigned Band Contest and we were sure to be discovered any-day.
With the lineup solidified, we set out playing all around the southeast and worked really hard. We had our ill-fated Nightmare Tour, where a long run of bad luck coincided every show including having a bunch of gear stolen out of our truck after a show in Birmingham and the infamous tornado show in Florence AL. We had one label after another express interest and court us before moving on without us. I married that girlfriend, which also didn't work out too good.
By the summer of 1990, we had basically become really tight and solid, figured out that we weren't about to be signed or the next big thing, and decided to give it one last big chance. We saved up a little money and made a deal to buy some late night studio time at my Dad's former studio, Muscle Shoals Sound.
Muscle Shoals Sound Studio had begun in a former casket factory and become a world renowned recording studio based on the personnel there (the world famous Muscle Shoals Sound Rhythm Section) but in 1978 they upgraded from their humble tiny room (where The Rolling Stones recorded "Brown Sugar" and "Wild Horses") to this 35,000 sq. ft. facility on the bank of The Tennessee River. The recording rooms were state of the art, for that era, but were the classic 'acoustically dead' sound that was favored in those pre-punk days. We were loud and boisterous and wanted a sound that reflected it, so we ran cables out the door of the control room, down the hall and up the stairs to these cavernous rooms that were part of the original building before it was converted into a studio. (It had been a Navel Reserve Building, and once Elvis played there live around 1955). Steve Melton, who engineered and co-produced our record, must have thought we were crazy (we were) but he was a good sport and we went in the day after Thanksgiving, 1990, and spent all day setting it up and getting levels. We came back the next day, Saturday November 25th, 1990, and recorded 13 songs live in those huge rooms. Hardwood floors, 25 ft. ceilings and plaster walls. We used the natural reverb of the room instead of the digital effects that all records were using back then.
We tracked the entire album that one day. Then I went back in a few months later and cut the vocals (on the night Bush Senior began Operation Desert Storm in Iraq). We spent a couple of other days overdubbing and a few days mixing it and it was done.
By the time we finished the album, John had left the band. His replacement, Chris Quillen, sang the very high harmony at the end of "Long Time Ago" and that was it.
We toured all summer, the most extensive tour we had done since 1988, then quietly broke up after a show in Nashville. Cooley and I moved to Memphis in an attempt to relocate the band but lost it instead. Chuck ended up somewhere in Mississippi. Chris Quillen was killed in a car accident a couple of weeks before we started Drive-By Truckers and John passed away in the spring of 1999.
The album, Town Burned Down, never came out. That was something that literally haunted me for years and a lot of how this band has done business is a direct result of that happening to us.
Cooley and I went on to play as a two-piece acoustic act for a year and a half (Virgil Kane) and then formed the ill-fated but perhaps appropriately named band Horsepussy before going our separate ways for a couple of years. I moved to Athens and wrote a bunch of the songs that became my second solo album many years later (Murdering Oscar and other love songs). "Pollyanna' was actually the very last ever Adam's House Cat song. "Nine Bullets" was a Virgil Kane song and believe it or not, "Mercy Buckets" was a Horsepussy song (the verses were different then).
Adam's House Cat broke up the week before Nirvana's video of "Smells Like Teen Spirit" was released. Our "Runaway Train" song predated the Soul Asylum hit by five years. When I was down and out in Auburn Alabama, I would curse every time I heard that song on the radio or MTV. I don't anymore.
There's more to tell, but I'll save that for my book if I ever write it.
Enjoy Town Burned Down. I would love the chance to remix it (we never quite got what we were looking for in the mix) but the original 2" tapes are lost forever, ironically enough, probably destroyed in a tornado last year, so its out of the question. I can't stand the sound of my voice on it, but Cooley shreds all the way through it, John was a Rock-solid bass player and some of the songs hold up pretty well. (Was always really proud of "Runaway Train" and "Cemeteries"). It's a nice little slice of what we were trying to do a Long Time Ago, and as I said, our drummer was really fucking good.
Thanks for all.
Patterson Hood
---
BUTTHOLEVILLE
I wrote Buttholeville on my kitchen table at my crappy one bedroom apartment in Florence AL in the spring of 1988.
I was then playing with Mike Cooley in the band Adam's House Cat.
Things weren't going particularly well on any level back then.
I was very frustrated with everything in my life, personal, musical, financial, you name it.
I don't remember if I had my guitar or not, as sometimes I wrote without it, especially as my girlfriend, who lived with me then, worked days and was usually in bed by 10.
Dirty little secret:
I wasn't actually intending the song about any one particular town at all.
I was certainly frustrated about where I was and there was a lot about my hometown that was pissing me off for sure, but the song was more about my general state of mind (and the general state of mind of the people I had to do business with at the time, booking my band in a bunch of redneck clubs in the southeast) than just my hometown.
I was just mad and frustrated and such simple emotions inspire a very simple (you could even say simplistic) song.
Basically one chord (nowadays a G minor although with us tuned down that would be played like an A minor) driving over and over in a slight variation to a Chuck Berry riff (Appropriated almost verbatim from Bruce Springsteen's "State Trooper", although that might have occurred later when the band worked it up).
None of that is too clear, like so much from that point of my life.
It's all a blurry hazy collage of memories that each year renders a little blurrier and hazier.
I do remember writing the words though.
It was very quick.
I had the first line and that led to the second and so on until it was done.
Probably not even ten minutes. Maybe five.
I wanted it to sound as redneck as what it was making fun of.
That was kind of the point.
Oh and Billy Bob was a real person.
Part of my frustration was having this band that was kind of starting to be kicking.
We had just won MUSICIAN Magazine's Best Unsigned Band thing and was getting all of this buzz and press and no one would let us play in our hometown.
There was a club called Southern Touch that we had played a couple of gigs in very early on and it sold to a new owner (who ran it into the ground in about four months flat).
We went to him trying to get a show and finally talked him into letting us charge $5 at the door, collect it ourselves and play for that.
No money from him and he got to make the bar, which at that time was almost always empty.
He agreed, then when we packed the place out he tried to steal the door $$ from us.
He wasn't around very long after that, but his name really was Billy Bob.
The car was real also, although it wasn't mine. (I actually drove a little Honda that I ended up putting 1/4 million miles on).
I remembered a couple of brothers who were friends of mine since 1st grade (still are) whose Mom drove a dirty gold 68 Bonneville four door.
In 1988, it wouldn't have been retro-cool yet, it was probably long since in a junkyard, but it rhymed with Buttholeville so there you have it.
One of the brothers, much later mentioned that their mom had that kind of car and I told him that's where it came from.
I think he liked that.
Ronnie and Neil was THAT Ronnie and Neil which shows that even back then my mind was already working towards that direction.
I was always fascinated by their misunderstood little feud and mutual admiration, which leads to the Jimmy Johnson part of this story.
Jimmy Johnson was my Dad's partner in music at Muscle Shoals Sound for over 25 years. They were also really close, maybe best friends.
Jimmy discovered Lynyrd Skynyrd (before Al Kooper or Alan Walden) and engineered the Rolling Stones' sessions that brought us "Brown Sugar" and "Wild Horses".
He's a cool guy and really like part of my family.
I played in bands with his son Jay back in High School and could probably write a book on just those stories alone.
Jimmy knew about us winning that contest and I'm sure was a little proud of me and came to see Adam's House Cat play in early 89 (at a club called Swampers that later opened where Southern Touch once was).
While he was there, he saw us play "Buttholeville" and was so angry that we would write such a song about his beloved hometown, the place where all of his childhood dreams had come true, that he wanted to 'whip my ass' and Jay actually had to talk him down from doing so right then and there in front of everyone.
Jimmy was a big imposing guy back in those days and could easily have taken Cooley and I both out. I doubt anyone there would have tried to stop it.
Now a little side note. I grew up loving my Dad and worshipping the music that he made.
My original record collection was like a miniature version of his. A little Elton, a little Neil, a little Pink, a little Zeppelin.
The Beatles, The Stones, Steely Dan, even God-forbid some Eagles.
Then in 1977 I saw a thing on some late night TV show about this "horrible" new music fad from England and I was hooked.
Suddenly I was scouring the racks looking for Punk Rock records (not necessarily easy to find in North Alabama at the time).
I followed and learned the best I could but suddenly Punk Rock was My Dad's and I's first generation gap.
He was a studio player in the business of trying to make everything sound as close to perfect as possible and I loved a music that reveled in it's own imperfections.
I mistrusted the sheen that records were then thought to aspire to and loved the ratty sounds and unbridled anger and emotion of this beloved new form of Rock.
I also recognized aspects of it in older more traditional albums by some older artists (Neil Young, who was one of the few of the old guard to embrace it early on).
It wasn't until much later that I made the connection that early Rock and Roll and even Country Music was often closer in spirit to the things I loved about Punk Rock than the slick studio processed music of the late 70's (and for that matter much of what was later called New Wave).
If Hank Williams had come along in 1977, he would have been called Punk Rock, but I digress again.
I doubt Jimmy Johnson listened to much Punk Rock and I'm sure he would have hated it if he did.
There was nothing in his formative experience to lead him to appreciate "Buttholeville".
It was just a bunch of spoiled snotty young kids thumbing their nose at him, his hometown and the very life that he held so dear.
Never mind that my intention in writing the song had nothing to do with any of that, suddenly his issue with my song and me became the story and I was far too young, rebellious (perhaps snotty nosed and spoiled too) to back down.
To my way of thinking, anyone offended by a song was what that song was about so therefore...
I guess our feud lasted well over ten years.
I didn't really see much of him during those days and as that song got more (negative) attention in my hometown, the legend around it became bigger and bigger.
As they say in John Ford movies, "Print The Legend".
A few years later, I ended up moving off and a few years passed and I began rethinking my turbulent relationship with home, both literally and figuratively.
Home, as in my family and home as in my hometown and home as in my region, which I have also always had a somewhat bumpy relationship.
As it's well known, I co-wrote an album, maybe several about these things and on 'that one' in particular, I wrote a song about the friendship/feud of Ronnie and Neil.
In writing that song, I wanted to re-connect it with my own roots and my own little Rock Feud so I wrote the Jimmy Johnson verse as a sort of acknowledgement/fig leaf to him.
To further connect the dots, Jimmy and Ronnie Van Zant, both of whom possessed very explosive tempers, had had their own falling out way back and Ronnie wrote the Muscle Shoals verse of "Sweet Home Alabama" as his fig leaf to Jimmy.
I loved connecting "Ronnie and Neil" to "Buttholeville" and have always sort of considered that song to be part of the Southern Rock Opera narrative.
I sent Jimmy a copy of Southern Rock Opera and was told that he appreciated it. I doubt he wants to whip my ass anymore.
It should be noted as I write this that last night my band played a show in a mid-sized Canadian city. To folks where I'm from, Canada is this mythical liberal place with big beautiful clean cities, wide-open spaces and abundant free healthcare.
Canadians are known as a friendly people.
A big part of the front row last night was this group of drunk morons wearing matching hockey jerseys and acting like total assholes.
They were dipping Skoal for Christ sake, something I've never seen at a DBT show in Alabama or Georgia. They were bumping into the fine folks around them who were trying to enjoy a show that they paid their hard earned money for.
They were spilling beer all around and I actually saw one do a line of something off of his buddy's fist. I have no idea where they were from and really don't care. (Some nice people I talked to after the show speculated that they were from the surrounding countryside).
There were only five or six of them but that's all it took to make it a shitty experience for most of the people around them, so Buttholeville Really is a State of Mind.
In a couple of weeks I will be participating in a panel at the WC Handy Festival in Florence AL dedicated to the multiple generations in Muscle Shoals Music.
I will be sitting with my Dad and Jimmy and Jay Johnson.
DBT will be playing a show that evening, headlining the local festival, which for the record we've never been asked to play before.
A lot of our never being invited probably is directly related to my having written that song back in 1988. I suspect that "Buttholeville" will come up (it usually does whenever I see Jimmy).
I'm still not sorry for the song or my intent with it, but I am sorry that he took it the wrong way and was so angered about it.
I certainly won't bring it up.
The last time I saw Jimmy Johnson was when The Muscle Shoals Sound Rhythm Section was being inducted into The Musicians Hall of Fame in Nashville.
It was a beautiful ceremony that included Booker T and The MGs, Duane Eddy, The Crickets, Keith Richards and George Jones among many others Jimmy came up to me afterwards and said he sure was proud of me and what all I had done.
Then he proceeded to tell me he really never thought that he would feel that way since I used to be so misguided and all.
"You've turned out OK, but I sure don't like that song you wrote".
- Patterson Hood
Originally written in the Back Lounge on Tour Bus (Brittany) outside The Phoenix, Toronto Ontario June 15th, 2011; revised and updated on July 16, 2011 from my office in Athens GA.
---