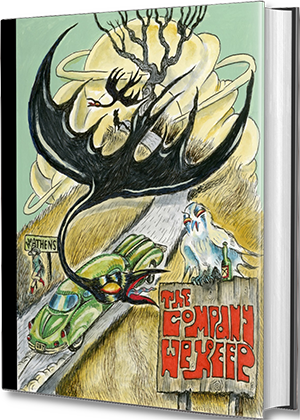 The Company We Keep
Y'all,
As most of you know, DBT has the greatest fan base in the world. The fine folks at Three Dimes Down inspire us to work extra hard at being worthy of such fine folks spending their hard earned money and time. Their contributions to our beloved Nuci's Space has helped countless people in our incredible Athens community and we're all beyond moved.
Now they have put together this wonderful, and somewhat over the top book as a love letter to our music and the family that has formed around it as well as the venue, town and people who have made HeAthen's Homecoming what it is.
I spent an hour looking through it (it will take far longer to actually take it all in) while staying with Dr. Contovasilis and family and I was moved to literal tears. I don't know if anything like this has ever existed in any other band's community but I was blown away by the enormous amount of work and love that obviously went into its creation. It has made me want to strive even harder to be worthy.
I urge you all to check it out. The proceeds go to Nuci's Space and their mission of suicide prevention and musical artistic resource. You can order one at https://thecompanywekeepbook.com.
The HeAthen's Homecoming has grown to four nights this year and is looking to completely sell out. We feel beyond blessed.
Happy Holidays and see you at The Rock and Roll Show.
Sincerely,
Patterson and the DBT Family